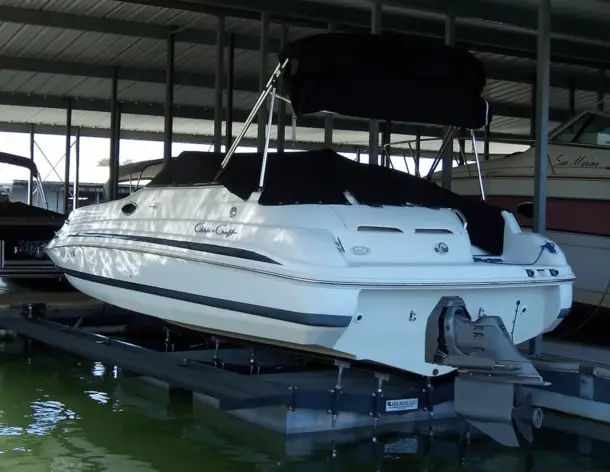 Beaver Lake Boat Docks
Looking for a place for your boat for the night? We have transient slips available for overnight rental in multiple sizes. Nightly rentals start at $9 per night. Click the button below for pricing, availability and reservations.
We have over 200 annual slips for various boats. Slips are available for day and overnight rental or may be rented on an annual basis. Most of our slips are covered, covered slips do make a difference! Keep the ravages of summer's sun and winter's snow and ice off your boat while it is docked. We have covered slips for boats up to 80 feet in length available on an annual basis. We also offer sail boat slips and moorings.
Our annual slips range in size from 20 ft 80 ft. Covered 20 x 8, 20 x 9, 24 x 10, 26 x 10 Covered 30 x 14, 48 x 16, 50 x 16, 62 x 16, 80 x 18 (Metered Electric) Uncovered 30 x 10 for sail boats Uncovered 50x16 for sailboats (Metered Electric)
We do have a few slips available, contact us here. We maintain a waitlist for some slip sizes. If you would like to be added, please email with your name, boat size, desired slip size, and phone. Our annual contracts run from May 1st to April 30th each year.
Boat Lifts and PWC Lifts We are an authorized dealer for Ozark Boat Lifts. Ozark manufactures your lift to custom fit your boat and slip. Used lifts become available some times in the spring but are in high demand. More details on boat lifts for sale on Beaver Lake.